George Andersons well-known (on Diyaudio.com) single-ended triode amp.It makes about 8 watts per with the Electro-Harmonix 'Fat Bottle' 6CA7s and will take just about any of the common Pentodes: EL-34, 6550, KT-66-88, etc. Optimum results with these tubes may require adjustment of the B+ resistor. If you don't know what that means, don't worry, it'll sound great with the voltage I built into it.

It has a PEC carbon volume pot so you can run a CD Player direct if desired, or just use it as a power amp.

There are a few blemishes of the paint on the rear panel of the Hammond Steel box. The inputs are Vampire CM Hex and the outputs (wired for 8 ohms), Audio Note Silver. The pic of the inside shows the choke-regulated, oil cap filtered power supply.The output caps are Obbligato and critical resistors, KOA Speers (read, Kiwame) and PRP. Output transformer are Transcendar.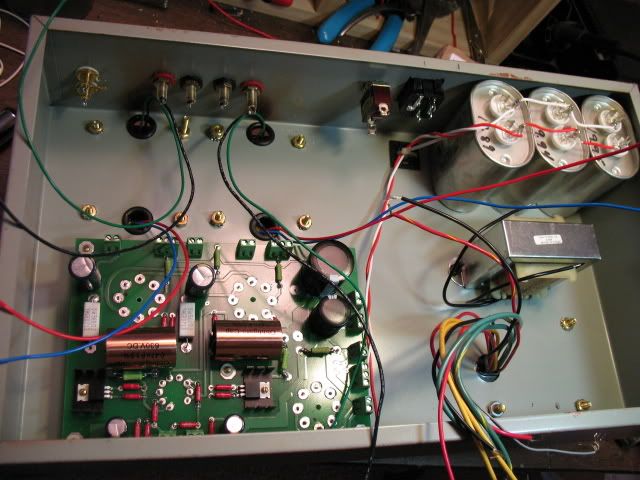 I'm including a triode-matched JJ 12AT7 driver and a matched pair of Electro-Harmonix 6CA7s. The Bugle Boy 5AR4 shown will NOT be playing at your home so you will need to get one. Thee 6550s shown are rare pre-Sovtek Svetlanas and also not included. Don't tell any collectors but the EH you're getting sound better.
It plays full bore with zero audible hum even with my 97dB efficient speakers and really delivers, from powerful bass to airy highs. The EH 6CA7 is a gorgeous sounding tube.
It's heavy and needs to be double boxed so expect shipping north of $50. Paypal add 3%. US Postal money orders only.
I'm selling as I'm about to put the Tubelab 300B SE into service so it's time to let someone else enjoy it.