Click below for larger image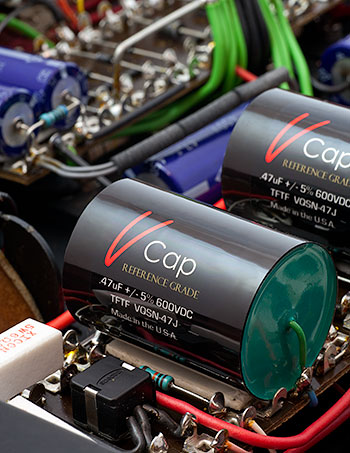 40% Closeout Pricing, at VH Audio!

The V-Cap TFTF Fluoropolymer film and tin foil audiophile capacitors are the result of an extensive research and development project by a team of world-renowned experts in electrical engineering, chemistry, materials science, and some of the top minds (and "ears") in the audio industry. These experts were commissioned to help design, build, and evaluate a "cost-no-object" capacitor for reference-grade audiophile applications. The resulting series of proprietary materials and processes has produced what we believe is one of the most extraordinary, musical capacitors ever made.

Innovative solutions for ultimate performance

One of the biggest challenges with Fluoropolymer film capacitors is the permeations (microscopic pinholes) that form during the fabrication of the film, and when the film is stressed during the actual winding of the capacitor. The reason these permeations are a problem is because they have the potential to allow micro-arcing to occur between adjacent layers of the capacitor. The cumulative effect of this micro-arcing causes degradation of the capacitor's life and performance, in addition to a poor signal-to-noise ratio. The V-Cap design team found solutions to this challenge by sourcing Swiss-made winding machines and engineering proprietary bobbins that apply a light and ultra-stable tension to the custom spec'd Fluoropolymer film during the winding operation. This greatly reduces the formation of permeations in the Fluoropolymer film, reduces microphonics, and provides an unsurpassed level of consistency and quality control. To take this a step further, the V-Cap engineers have also developed a new winding process called the Variable Stage Quadrant Dielectric™ (V.S.Q.D.). This unique winding process is a significant advance in capacitor technology because it virtually eliminates permeation alignments in three dimensions, ensuring an ultra-low noise floor, longer cap life, and highs that are extended, but without the fatigue or "tizziness" normally associated with capacitors of lesser quality.

No expense has been spared to create these cost-no-object capacitors for the exacting audiophile

Click below for larger image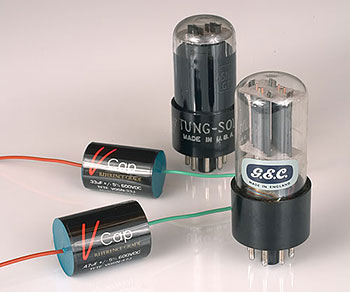 Hear and feel true low frequency extension without any loss of control. Immerse youself in a holographic soundstage emanating from a velvety black background, while enjoying the midrange liquidity and bloom coveted by oil capacitor afficionados. The V-Cap TFTF's reproduction of a musical instrument's precise timbre must be heard to be believed. No detail has been overlooked or left to chance during the development and production of the V-Cap. Even the FEP insulated, 18 AWG solid copper leads and epoxy end-fill have been carefully selected for the best musicality and detail. The V-Cap TFTF can also handle much higher temperatures than most other caps, making them significantly more reliable in the relatively high temperatures often found inside vacuum tube amplifiers. We could go on and on, but simply put, we're confident you'll conclude this is the most robust, musical, and revealing capacitor ever made for reference grade audiophile applications...
A truly unique product for the audiophile who demands extreme performance
V-Caps are NOT a "rebrand" or relabeling of an already existing product, but a unique new capacitor design that has been meticulously engineered and handcrafted in the U.S.A. V-Caps are manufactured to the specs of VH Audio.
Every V-Cap capacitor is inspected, tested, and pushed to the edge of extreme conditions, to simulate the harsh environments commonly found in tubed electronics. This ensures long life, reliability, and the ultimate in performance. In fact, V-Cap capacitors are manufactured to such high standards, they are backed by a lifetime warranty to the original purchaser.
Price in ad is for .01 uF TFTF capacitor. Please see pricing table below for all pricing / values available.
V-Cap TFTF Dimensions and Pricing
Voltage (DC)

Dimensions (inches)

MSRP

Close-out
Pricing
40% off

600

.50 X .75

$55.98

33.59

600

.55 X 1.2

$63.98

38.39

600

.70 X 1.0

$65.98

39.59

300

.7 X 1.33

$99.98

59.99

600

1.27 X 2.0

$179.98

107.99

600

1.45 X 2.0

$219.98

131.99

300

1.0 X 1.9

$239.98

143.99

300

1.2 X 1.9

$259.98

155.99

300

1.4 X 1.9

$339.98

203.99

300

1.25 X 2.53

$439.98

263.99

250

1.8 X 2.5

$659.98

395.99
If you are an OEM or component modification professional, please contact us for pricing
"V-Cap", "CuTF", "TFTF", "OIMP", "Reference Grade", "Elite Reference" and "Variable Stage Quadrant Dielectric" are trademarks of VH Audio, Inc.